Csc eDistrict,How to eDistrict Online Apply UP and UP , edistrict up status ,csc edistrict Apply,CSC eDISTRICT Registration, login edistrict up
ईडिस्ट्रिक्ट एक पोर्टल है जो विभिन्न सरकारी प्रक्रियाओं और प्रक्रियाओं से संबंधित ऑनलाइन सेवाएं प्रदान करता है। इसका उद्देश्य सरकारी सेवाओं के वितरण को सुव्यवस्थित और डिजिटाइज़ करना है, जिससे नागरिकों के लिए इन प्रक्रियाओं को ऑनलाइन एक्सेस करना और पूरा करना आसान हो जाता है। आप जिस राज्य में स्थित हैं, उसके आधार पर ई-डिस्ट्रिक्ट पोर्टल पर उपलब्ध सेवाएं भिन्न हो सकती हैं। उपलब्ध सेवाओं के कुछ उदाहरणों में पासपोर्ट के लिए आवेदन करना, जन्म प्रमाण पत्र प्राप्त करना और विवाह का पंजीकरण शामिल है।

CSC Edistrict Apply: सीएससी संचालकों के लिए एक और बड़ी खुशखबरी निकल कर आ रही है अब सभी कॉमन सर्विस सेंटर संचालकों के लिए ई डिस्टिक आईडी बिल्कुल फ्री में उपलब्ध कराई जाएगी जिससे कॉमन सर्विस संचालक अब ई डिस्टिक पोर्टल पर भी काम कर पाएंगे|
सभी प्रकार के सरकारी कार्यों को करने के लिए login edistrict up सेवा की आवश्यकता होती थी| कॉमन सर्विस सेंटर ने भारत के सभी राज्यों के द्वारा दी जाने वाली राज्य सरकारी सेवाओं को आसानी से उपलब्ध कराया है लेकिन उत्तर प्रदेश राज्य की सरकारी सेवाएं पहले कॉमन सर्विस सेंटर में शामिल नहीं थी| लेकिन नया अपडेट CSC 3.0 के लागू होने से अब आसानी से ई डिस्टिक की सेवाएं कॉमन सर्विस सेंटर संचालकों को मिल पाएंगे|
इस पोस्ट में क्या है

Name of scheme
CSC e-District Online Registration HIGHLIGHTS
Was launched
State government
objective
Providing single window service to the citizens of the state
benefits
Providing information on applications, status of applications, schemes under all government schemes launched by the state government
beneficiaries
Every citizen of the state
states
Applicable in UP
service
Information and application of every government scheme of the state.
STATE DSP LIST
Click Here
CSC e-District Online Registration
Click Here
Official Website
Click Here

What Is CSC e-District Service?
ई-डिस्ट्रिक्ट परियोजना ई-गवर्नेंस योजना के अर्न्तगत चलने वाली स्टेट मिशन मोड परियोजना है जिसका मुख्य उदेश्य जन केन्द्रित सेवाओ को कम्पयूटरीकरण करने का है। इस परियोजना में सम्पूर्ण व्यवस्था क्रम को कम्पयूटराइज किया गया है । ई-डिस्ट्रिक्ट परियोजना में प्रमाण पत्र,शिकायत ,जन वितरण प्रणाली ,पेन्शन ,विनमय,खतौनी,राजस्व वाद एवं रोजगार केन्द्रो मे पंजीकरण संबंधी सेवाओं को सम्मिलित किया गया है। राज्य सरकार ने प्रदेश कॆ सभी जिलो में परियोजना कॊ लागू कर आम जनता को सुविधा प्रदान करने तथा सेवाओं के वितरण हेतु सेवाकेन्द्र स्थापित कियॆ है। यह सभी सेवाकेन्द्र पंचायत स्तर पर जिला सॆवा प्रदाता(डी.एस.पी.) संस्था द्वारा स्थापित कियॆ जा रहे हैं । ई-डिस्ट्रिक्ट परियोजना के सॉफ्टवेयर का सम्पूर्ण विकास एवं तकनीकी संचालन राष्ट्रीय सूचना विज्ञान केन्द्र उत्तर प्रदेश इकाई द्वारा किया जा रहा है | इस परियोजना के अंतर्गत जारी हुए प्रमाण पत्रों को भारत सरकार की डिजिटल लॉकर परियोजना से भी एकीकृत कर दिया गया है |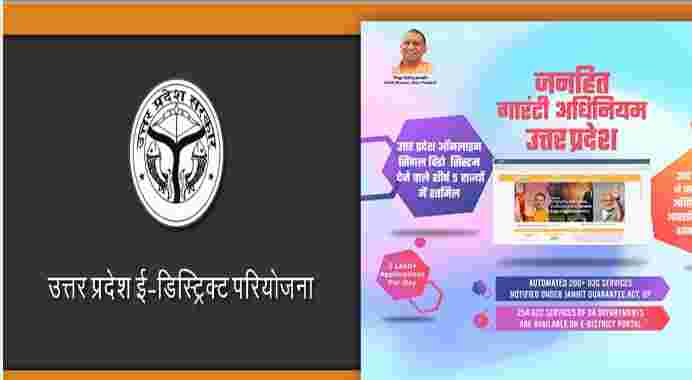 CSC eDistrict Online Registration / सीएससी ई डिस्टिक ऑनलाइन रजिस्ट्रेशन
CSC से e-DISTRICT लेने के लिए आपको ऑनलाइन प्रक्रिया के माध्यम से रजिस्ट्रेशन करना होगा | आपको
रजिस्ट्रेशन कैसे करना है इसकी पूरी जानकारी हम आपको यहां पर देने जा रहे हैं |
सबसे पहले यहां दी गई वेबसाइट पर क्लिक करें और की CSC eDISTRICT Registration के पेज पर जाएं|
जैसे ही आप इस पर क्लिक करेंगे आप नीचे दिखाई गई वेबसाइट पर पहुंच जाएंगे|
अब आपको यहां पर अपने सीएससी पोर्टल से लॉगइन करना है|
सफलतापूर्वक लोगिन करने के बाद आपके सामने रजिस्ट्रेशन का पेज खुल जाएगा|
यहां पर आपको अपनी समस्त जानकारी भरनी होगी|
कृपया यहां पर सभी जानकारी सही-सही भरें|
जानकारी भरने के बाद आवेदन को सबमिट कर दें|
यहां पर रजिस्ट्रेशन करने के बाद आप की जानकारी सीएससी के पास पहुंच जाएगी और जल्दी आपका यूजर आईडी और
पासवर्ड बनकर आपको एस एम एस के माध्यम से सूचित कर दिया जाएगा|

सीएससी ई डिस्टिक रजिस्ट्रेशन वीडियो|
अगर आपको CSC eDISTRICT Registration सीएससी ई डिस्टिक रजिस्ट्रेशन करने में किसी प्रकार की समस्या आ रही है तो हमने आपको नीचे वीडियो दिया है आप पूरा वीडियो ध्यान से देखें इसे देखकर आसानी से आप ई डिस्टिक लेने के लिए ऑनलाइन रजिस्ट्रेशन कर सकते हैं|
सीएससी से ई डिस्टिक लेने के लिए महत्वपूर्ण शर्तें|
अगर आप सीएससी के साथ ई डिस्टिक पोर्टल तो आपको निम्नलिखित बातों का ध्यान रखना होगा|
आपके पास सीएससी आईडी होना अनिवार्य है|
आपकी सीएससी आईडी एक्टिवेट होनी चाहिए|
आप सीएससी की सभी सेवाओं पर काम करते हो|
इस प्रक्रिया का चयन पहले आओ पहले पाओ के माध्यम से किया जाएगा|
जो भी भी अली इसके लिए पहले रजिस्ट्रेशन करेगा वह अपनी ग्राम पंचायत में इसका उपयोग कर पाएगा|
ई डिस्टिक आईडी पूर्ण रूप से निशुल्क है इसके लिए आपको कोई भी शुल्क नहीं देना होगा|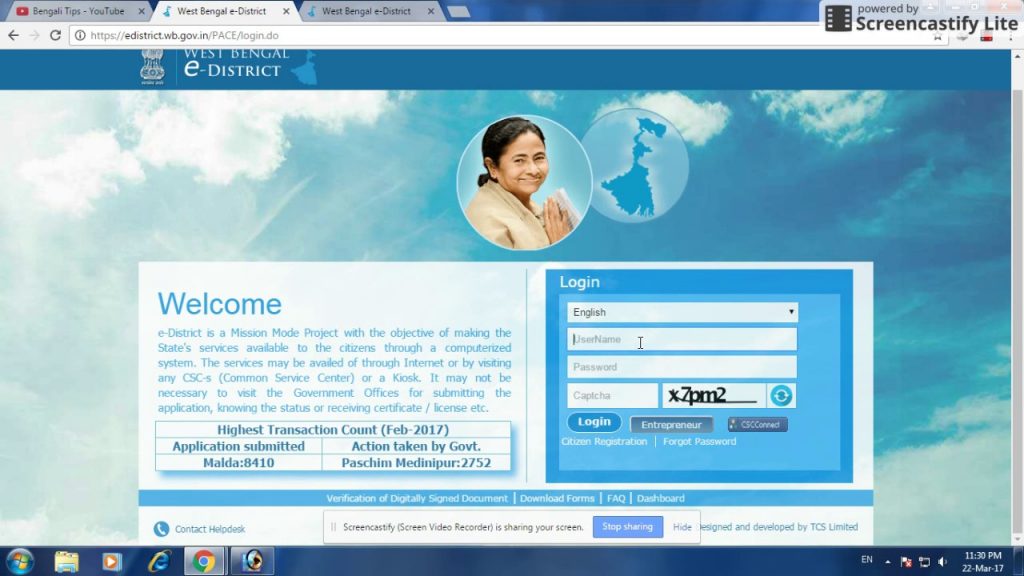 अगर आप edistrict लेना चाहते है और आय,जाति ,निवास ,जैसी सेवाए देना चाहते हैं तो आपको edistrict up status के अंदर ये सभी सेवाए दी जायेंगी आप edistrict सभी राज्यों मैं ले सखते हैं और उस पर कम करके अच्छे पैसे कमा सकते हैं( login edistrict up )
login edistrict up
eDistrict service list
Possession certificate
Ration Card Issuance
Income Certificate
Caste Certificate
Nativity Certificate
One and the Same Certificate
Location Certificate
Community certificate
Residence Certificate
Relationship Certificate
Family Membership Certificate
Non-Remarriage Certificate
Possession and Non-Attachment Certificate
Destitute Certificate
login edistrict up
edistrict up status
 
Utility Payment Services
Water bills
Electricity bills
other bills
Revenue Court
Criminal Miscellaneous Petitions
Appeal under Land Conservancy Act
Petitions under Wetland Conservation Act
Employment
Public Grievance Services
Filing of Grievances
Tracking of Grievances
Social Welfare and Pension
Widow Pension
Handicap Pension
| | | | | |
| --- | --- | --- | --- | --- |
| SR | DSP Name | Contact person name | Mobile No. | Email-ID |
| 1 | VAYAM Technologies Ltd | Ashish Verma | 8726500600 | ashishv@vayamtech.com |
| 2 | SREI Infrastructure Finance Ltd | Prabhat Ranjan | 6290823193 | prabhat.ranjan@srei.com |
| 3 | India Power Corporation Limited | Raghav Saxena | 9935241051 | raghav.saxena@indiapower.com |
| 4 | CSC e-Governance Services India Limited | Avanish Singh | 9919998319 | avanish.singh@csc.gov.in |
| 5 | Center for Technology and Entrepreneurship Development | Sanjay Singh | 7408596160 | sanjaisted@yahoo.com |
| 6 | CSC WiFi Chaupal | Chandresh Kumar | 8860009884 | chandresh.kumar@csc.gov.in |
| 7 | BLS International Services Limited | Vikas Dubey | 9111116160 | vikas.d@blsinternational.net |
| 8 | KND Engineers and Consultants(India) Pvt. Ltd | Amit Singh | 9451372817 | amitsinghkandd@gmail.com |
| 9 | CMS Computers Ltd | Anil Mehrotra | 9415332265 | anil_mehrotra@cms.co.in |
| 10 | ITI Limited | K K Mishra | 9450026044 | kkmishra_mspup@itiltd.co.in |
| 11 | I-Net Secure Lab | Mr. Jayakumar M | 75300 49707 | jayakumar@inetcsc.com |
| 12 | Nekton India Pvt. Ltd | Shamim | 8881652200 | info@nekton.co.in |
| 13 | SNR eDATA Pvt Ltd | Mridul Kumar | 8286078812 | mridulvslt@gmail.com |
District Servcie Provider wise Up e district VLE Registration Link
District Wise Service Provider List For up edistrict portal vle login id and password creation
List of District Service Provider (DSP) under CSC 3.0 Scheme
S.No
District Name
DSP Name

1

Agra

VAYAM Technologies Ltd
SREI Infrastructure Finance Ltd

2

Aligarh

SREI Infrastructure Finance Ltd
VAYAM Technologies Ltd

3

Ambedkarnagar

VAYAM Technologies Ltd
India Power Corporation Limited

4

Amethi

CSC e-Governance Services India Limited
Center for Technology and Entrepreneurship Development

5

Amroha

India Power Corporation Limited
CSC WiFi Chaupal

6

Auraiya

CSC e-Governance Services India Limited
CMS Computers Ltd

7

Ayodhya

VAYAM Technologies Ltd
BLS International Services Limited

8

Azamgarh

VAYAM Technologies Ltd
SREI Infrastructure Finance Ltd

9

Baghpat

SREI Infrastructure Finance Ltd
CSC WiFi Chaupal

10

Bahraich

SREI Infrastructure Finance Ltd
CSC e-Governance Services India Limited

11

Ballia

VAYAM Technologies Ltd
BLS International Services Limited

12

Balrampur

CSC e-Governance Services India Limited
BLS International Services Limited

13

Banda

India Power Corporation Limited
CSC e-Governance Services India Limited

14

Barabanki

VAYAM Technologies Ltd
SREI Infrastructure Finance Ltd

15

Bareilly

KND Engineers and Consultants(India) Pvt. Ltd
SREI Infrastructure Finance Ltd

16

Basti

SREI Infrastructure Finance Ltd
CSC e-Governance Services India Limited

17

Bhadohi

SREI Infrastructure Finance Ltd
BLS International Services Limited

18

Bijnor

SREI Infrastructure Finance Ltd
VAYAM Technologies Ltd

19

Budaun

SREI Infrastructure Finance Ltd
VAYAM Technologies Ltd

20

Bulandshahr

CSC WiFi Chaupal
VAYAM Technologies Ltd

21

Chandauli

SREI Infrastructure Finance Ltd
CSC WiFi Chaupal

22

Chitrakoot

VAYAM Technologies Ltd
ITI Limited

23

Deoria

India Power Corporation Limited
CSC e-Governance Services India Limited

24

Etah

SREI Infrastructure Finance Ltd
CSC e-Governance Services India Limited

25

Etawah

CSC e-Governance Services India Limited
CMS Computers Ltd

26

Farrukhabad

CSC WiFi Chaupal
BLS International Services Limited

27

Fatehpur

SREI Infrastructure Finance Ltd
VAYAM Technologies Ltd

28

Firozabad

VAYAM Technologies Ltd
CSC WiFi Chaupal

29

Gautambudh Nagar

SREI Infrastructure Finance Ltd
CSC WiFi Chaupal

30

Ghaziabad

SREI Infrastructure Finance Ltd
CSC WiFi Chaupal

31

Ghazipur

VAYAM Technologies Ltd
SREI Infrastructure Finance Ltd

32

Gonda

India Power Corporation Limited
CSC e-Governance Services India Limited

33

Gorakhpur

SREI Infrastructure Finance Ltd
BLS International Services Limited

34

Hamirpur

India Power Corporation Limited
CSC WiFi Chaupal

35

Hapur

India Power Corporation Limited
CSC WiFi Chaupal

36

Hardoi

VAYAM Technologies Ltd
India Power Corporation Limited

37

Hathras

CSC e-Governance Services India Limited
CMS Computers Ltd

38

Jalaun

SREI Infrastructure Finance Ltd
CSC e-Governance Services India Limited
List of CSC 3.0 Servcie Provider For edistrict Portal Registration
S.No
District Name
DSP Name

39

Jaunpur

VAYAM Technologies Ltd
SREI Infrastructure Finance Ltd

40

Jhansi

SREI Infrastructure Finance Ltd
VAYAM Technologies Ltd

41

Kannauj

SREI Infrastructure Finance Ltd
CMS Computers Ltd

42

Kanpur Dehat

SREI Infrastructure Finance Ltd
CSC WiFi Chaupal

43

Kanpur Nagar

BLS International Services Limited
CMS Computers Ltd

44

Kasganj

SREI Infrastructure Finance Ltd
CSC e-Governance Services India Limited

45

Kaushambi

SREI Infrastructure Finance Ltd
CSC e-Governance Services India Limited

46

Kheri

SREI Infrastructure Finance Ltd
VAYAM Technologies Ltd

47

Kushinagar

SREI Infrastructure Finance Ltd
CSC e-Governance Services India Limited

48

Lalitpur

India Power Corporation Limited
CSC e-Governance Services India Limited

49

Lucknow

SREI Infrastructure Finance Ltd
CSC WiFi Chaupal

50

Maharajganj

India Power Corporation Limited
BLS International Services Limited

51

Mahoba

India Power Corporation Limited
CSC e-Governance Services India Limited

52

Mainpuri

India Power Corporation Limited
CSC e-Governance Services India Limited

53

Mathura

VAYAM Technologies Ltd
BLS International Services Limited

54

Mau

VAYAM Technologies Ltd
India Power Corporation Limited

55

Meerut

SREI Infrastructure Finance Ltd
Nekton India Pvt. Ltd

56

Mirzapur

VAYAM Technologies Ltd
BLS International Services Limited

57

Moradabad

SREI Infrastructure Finance Ltd
CSC WiFi Chaupal

58

Muzaffarnagar

VAYAM Technologies Ltd
SREI Infrastructure Finance Ltd

59

Pilibhit

India Power Corporation Limited
CSC e-Governance Services India Limited

60

Pratapgarh

SREI Infrastructure Finance Ltd
CSC e-Governance Services India Limited

61

Prayagraj

VAYAM Technologies Ltd
India Power Corporation Limited

62

Raebareili

VAYAM Technologies Ltd
India Power Corporation Limited

63

Rampur

CSC WiFi Chaupal
SNR eDATA Pvt Ltd

64

Saharanpur

SREI Infrastructure Finance Ltd
CSC e-Governance Services India Limited

65

Sambhal

SREI Infrastructure Finance Ltd
CSC WiFi Chaupal

66

Santkabir Nagar

SREI Infrastructure Finance Ltd
BLS International Services Limited

67

Shahjahanpur

VAYAM Technologies Ltd
SREI Infrastructure Finance Ltd

68

Shamli

CSC WiFi Chaupal
BLS International Services Limited

69

Shravasti

CSC e-Governance Services India Limited
India Power Corporation Limited

70

Siddharthnagar

SREI Infrastructure Finance Ltd
CSC e-Governance Services India Limited

71

Sitapur

SREI Infrastructure Finance Ltd
VAYAM Technologies Ltd

72

Sonbhadra

India Power Corporation Limited
CSC e-Governance Services India Limited

73

Sultanpur

VAYAM Technologies Ltd
I-Net Secure Lab

74

Unnao

VAYAM Technologies Ltd
India Power Corporation Limited

75

Varanasi

SREI Infrastructure Finance Ltd
VAYAM Technologies Ltd
edistrict पर आप इन सभी सेवाओ का लाभ उठा सकते है जो की आपको हर राज्य मैं अलग अलग सेवाएं प्रदान की जाएगी | e-district Online Apply
अगर आप edistrict लेना चाहते हैं तो आपको अपने सम्बंधित राज्य के अपने e-district जिला कार्यालाय मैं संपर्क करना होगा! और कई राज्यों मैं इसकी ऑनलाइन प्रक्रिया भी हैं तो सभी राज्यों की e-district लेने की प्रिक्रिया निम्न हैं |
Up e-district online apply
उत्तरप्रदेश मैं आपको e-district लेने के लिए आपको निम्न e-district service probider से संपर्क करना होगा जों आपके जिला मैं edistrict सेवाए प्रदान कर रहा हैं
सहज जनसेवा केंद्र
cmscs जन सेवा केंद्र
vyamtech जनसेवा केंद्र
CSC e-District
ऑनलाइन फॉर्म भरने के लिए यह विडियो देखे
Mp e-district online apply
e-district up status
edistrict up registration
Mp online
और अब सभी राज्यों मैं apnacsc edistrict सेवा प्रदान करने बाली हैं और बचे हुए राज्यों मैं edistrict सेवा लेने के लिए अपने डिस्ट्रिक्ट मेनेजर से संपर्क करें ?
E District
Visit: http://edistrict.up.nic.in/
E District Center
E district Center Raja Todarmal Garden
Location : E district Center Raja Todarmal Garden | City : Sitapur | PIN Code : 261001
To accelerate the efforts to achieve universal sanitation coverage and to put focus on sanitation, the Prime Minister of India launched the Swachh Bharat Mission on 2nd October, 2014. The Mission Coordinator for SBM is Secretary, Ministry of Drinking Water and Sanitation (MDWS) with two Sub-Missions, the Swachh Bharat Mission (Gramin) and the Swachh Bharat Mission (Urban). Together, they aim to achieve Swachh Bharat by 2019, as a fitting tribute…
PUBLISH DATE: 30/04/2021
View Details
How do I apply for the E District?
You need to submit filled up prescribed application form at CSC/Lokvani Center along with the Passport Size Photo, self-declaration certificate, copies of other supporting documents of the services as mentioned at url: https://edistrict.up.gov.in/eDistrictup/Services/services_hi.aspx
How do I get my eDistrict ID?
If you want to get this district, then you have to contact your district office in your district or you can contact your district's district service provider. If you have a CSC Customer Service Center, you will soon get the state E District Connection Bali has already added some Districts in it
How can I renew my caste certificate online in up?
Procedure to apply for Caste Certificate Online:
Visit your state's Backward Class Welfare Portal. …
Click on link "Apply for Caste Certificate Online"
Create a new account in the portal or you can fill online application form directly.
After creating the account log in into the portal using the username and password
csc edistrict up registration
How can I download caste certificate in UP?
Enter the application number and certificate ID and click on the search button. Verify the details of the issued certificate. After verification, the applicant can download the certificate by login to the UP online site
What is the validity of OBC NCL certificate?
one year
10 Answers. Non-Creamy Layer Certificate is valid only for one year from the date of receiving the certificate. Dear Sir, The Non-creamy Layer (NCL) Certificate would be applicable to OBC candidates who are covered under the Income/Wealth Test criterion CSC login edistrict CSC login edistrict, csc edistrict up registration, csc edistrict up registration, CSC login edistrict, CSC login edistrict, CSC login edistrict