Maharashtra Aaple Sarkar Portal 2023 Online Registration: Welcome to everyone in my article in this post I tell you about the Maharashtra aaple Sarkar portal online Maharashtra Aaple Sarkar portal login this makes the process of filling certificates and other services very easy Maharashtra government has come up with the Aaple Sarkar portal 2023 with all citizens will be able to register there and apply online for their income certificate and in this article, I will share some important aspects of the aaple Sarkar portal. in this article today I share some details about the Aaple Sarkar portal how to register in a play Sarkar portal and all the process that as step by step process and also to process of applying for an income certificate. if you want to register in the Maharastra aaple sarkar portal then please read my article.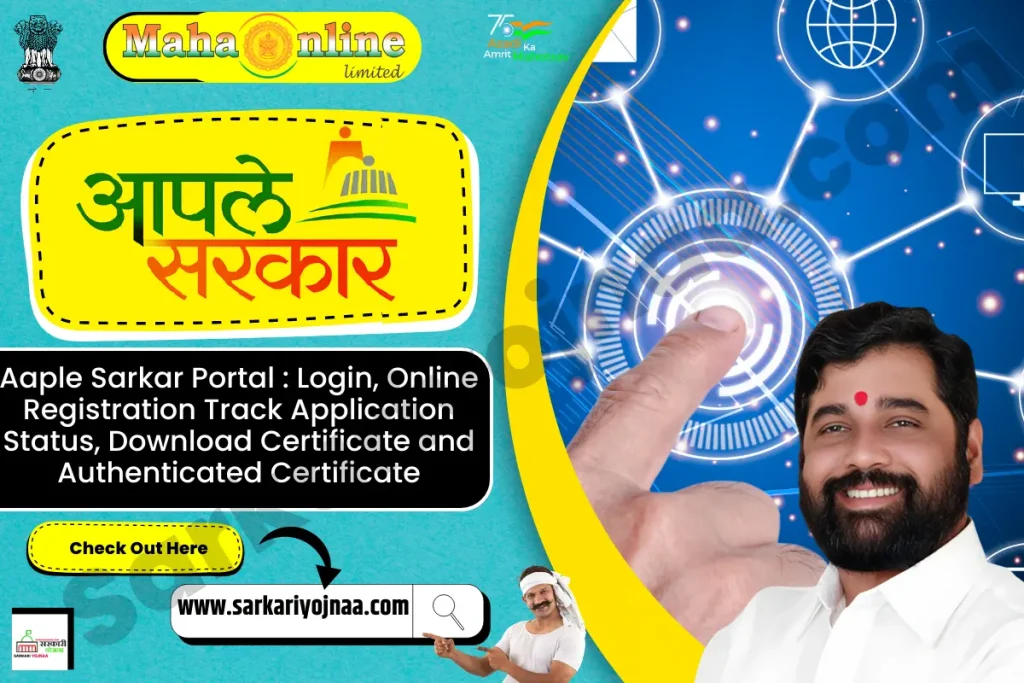 Maharashtra aaple Sarkar portal 2023
the Aaple Sarkar Portal 2023 has Been Designed by The Chief Minister of Maharashtra and They Have the Implementation of Website People of Maharashtra State Will Be Able to Apply for an Income Certificate when Sitting in Their Houses. and No One Belonging to Maharashtra State They Have to Visit Any Particular Office to Apply for An Income Certificate and All the Steps Have You Apply for Apply Sarkar Portal and All the Steps Creation of Income Certificate Will Be Sitting at Their Houses.
The Flowing Services Are Available in Different Departments at The Aaple Sarkar Portal:-
Revenue Department
Water Resources Department
Forest Department
Department of Registration and Stamps
Department of Co-Operation Marketing and Textiles
Home Department
Transport Department
Industries Department
Urban Development
Housing Department Mumbai Building Repairs and Reconstruction Sports
Maharashtra Jivan Pradhikaran
Urban Development
Nagpur Municipal Corporation
Maharashtra Polution Control Board
Maharashtra Industrial Development Corporation
Social Justice and Special Assistance Department
Medical Education and Drug Department
Higher Education and Technical Department
The Medical Education and Drug Department
Home Department Maharashtra Maritime Board
Tourism and Cultural Affair
Tribal Development Department
School Education and Sports Department
Agriculture
Department of Animal Husbandry and Dairying
Finance Department
The Tourism and Cultural Affairs Department
Food and Public Distribution System
Tourism and Cultural Affairs Department
Land Record Department
Energy Department
Urban Local Bodies
State Excise Department
Minority Development Department
Urban Local Bodies
Details of Aaple Sarkar Portal 2023
Another service Available at Aaple sarkar
Certificate of Presidents and Hilly Area
Age Nationality and Domicile Certificate
Income Certificate
Senior Citizen Certificate
Temporary Residence Certificate
Solvency Certificate
Permission of Culture Program
Agriculturist Certificate
Certificate Copy Record of Rights
Duplicate Marksheets
Government Commercial Examination Certificate Correction
Duplicate Migration Certificate
Duplicate Passing Certificate
Benefits of Aaple sarkar Portal 2023
Services Will Be Provided at The Door Step of The Citizens
Quick Services
Time Saving
Easy to Access to Aware Services
User Friendly
Important Documents
These Following Documents Are Required when Registry Yourself Under This Portal:-
Aadhar Card
Pan Card
Voter Id Card
Proof of Identity
Driving Licence
Government Semi-Government Id Proof
Proof of Address
Mgnrega Job Card
Rsby Card
Ration Card
Driving Licence
A Property Tax Receipt
Property Agreement Copy
Water Bill
Electricity Bill
Telephone Bill
Rent Receipt
Registration Process at AapleSarkar.Mahaonline.Gov.In
If You Want to Register Yourself Under the Aaple Sarkar Portal Then You Have to Follow the Steps that I have Given Below
Click on This Link Aaple Sarkar Official Website that Is Given Here.
When You Click the Official Website Then Homepage comes and Clicks on New User Register Here Link.
Then Directory Click on The Link that I Given There.
Two Options Appear on The Your Computer Screen.

Click on The Option One for Enter-
District
Your Mobile Number
Otp One Time Password
Username.

Click on Option 2 enter-
Your Full Name
Father's Name
Date of Birth
Age
Gender
Occupation
Address
Streat
Section
Building
Landmark
District
Taluka
Village
Pan Number
Pin Code
Username
Email Id
Password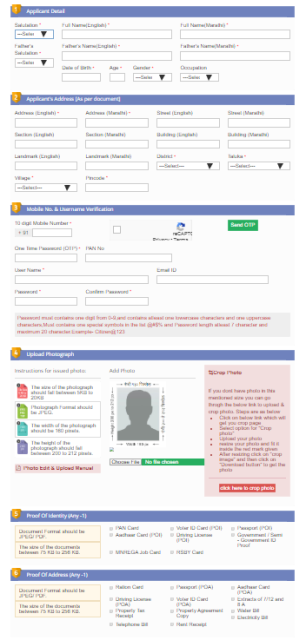 Then You Upload Your Signature and Photograph
And Upload the Document that Asked in Form.
Click on Register
Application Process for Certificate
If You Want to Apply for Income Certificate Then You Have to Follow the Simple Steps that I Have Given Here.
Visit at The Official Website of Aaple Sarkar Portal.
Login Through in Your All Details.
Search for The Revenue Department in The Menu Bar.
Select-
Sab Department
Revenue Department
A List of Services Will Be Displayed
Select the Certificate Option
Click on Proceed
A New Form Display on Your Screen.
And Feel the All Details that Asked in This Form
Upload the All Documents
And Click on The Apply Option and Then You Will Be Applied Application Process for Certificate.
Track Your Application at Aaple Sarkar
If You Want to Track Your Application Then You Have to Visit the Official Website of Aaple Sarkar Portal.
Then Click on The Track Your Application option that is Available in the Right Hand on This Homepage.

And There You Have to Choose the Name of The Department and Sub Department.
And Select The service Name and Enter the Email Id.
Click the Go Option and The Application Status Will Appear on The Your Computer Screen.
Verify Your Authenticated Certificate at The Aaple Sarkar
If You Want to Verify Your Authenticate Certificate Then You Have to Visit on The Official Website.
Click Verify Your authenticated Certificate available on The Right Hand on The Homepage.

Choose the Name of The Department and Sab Department
And Then Select the Service Name and Enter the Application Id
Then You Have to Click the Go Option and Then You Have a New Page Will Appear on Your Computer Screen.
You Need to Enter the 18 Digit barcode Value to Verify Your Certificate Authentication.
How to Search Seva Kendra
If You Want to Search Seva Kendra Then You Follow the Steps that I Given Below
First of All, You Have to Go to the Official Website.
And Go to The Main Menu
Under the Main Menu, You Have Saw the Link to Seva Kendra Then You Have to Click on The Option of Seva Kendra.
Now You Have to Select the Required Details which Are District and Taluka.
And Click on The Summit Option.
And All the Information Regarding the Seva Kendra Will Be Appear on Your Computer Screen.
Procedure to Register for Third Appeal
If There Will Be Some Delay or Daniel Is Providing the Services Then Your First Step that The Second Appeals Will Be Filled to The the Senior Officers in This Department and The Third Appeal Is to Be Filled out Before Rts Commission the Process of Registration Is on That I Give Below.
First of All You Have to Go to The Official Website.
And Then You Will See Some Image Under the Annual Report Link and Click on The Image of The Hammer.
Then You Will See the Link to Registration and For the Third Appeal, you Have to Click on The that Link.
And a New Page Will Be Opened in Your Computer Screen and In the Space Will Ask You to Create Your Profile Either by Registering through a Mobile Number Then You Uploading the Photograph of All the Documents and Required Information.
Click on Submit option.
Helpline Number
If You Have Any Problem Then You Have Knee Further Requires Then You Can Contact the State Helpline Number that I Have Given Here 18001208040.
ध्यान दें :- ऐसे ही केंद्र सरकार और राज्य सरकार के द्वारा शुरू की गई नई या पुरानी सरकारी योजनाओं की जानकारी हम सबसे पहले अपने इस वेबसाइट Sarkariyojnaa.Com के माध्यम से देते हैं तो आप हमारे वेबसाइट को फॉलो करना ना भूलें ।
अगर आपको यह आर्टिकल पसंद आया है तो इसे Like और Share जरूर करें ।
इस आर्टिकल को अंत तक पढ़ने के लिए धन्यवाद…
Posted by Amar Gupta

FAQs Related to Aaple Sarkar Portal 2023