The recent announcement of the SSLC and HSC-1 results for the year 2023 has caused a flurry of activity in Tamil Nadu's education sector. These important tests, administered by the Directorate of Government Examinations (DGE), Tamil Nadu, are essential for determining students' academic paths. This article explores a number of these results, including the pass percentage and top students.
TN SSLC and HSC-1 Results 2023
Results for the 2023 Higher secondary education and HSC-1 Examinations have been made public. Tamil Nadu students did exceptionally well in the recently revealed results for the SSLC and HSC-1 exams in 2023. As these results were keenly awaited, they were easily accessible on the official website, tnresults.nic.in. By inputting their registration number and date of birth, students may easily view their results. To keep students and parents informed during the announcement period, a number of news outlets provided real-time information.
TN SSLC/ Class 10th Exam Result 2023 Highlights
Board Name
Directorate of Government Examination
Also Known As
DGE, TN Board
Name of Exam
SSLC (Secondary School Leaving Certificate)
Class
SSLC / Class 10th
Academic Year
2022-2023
Type of Exam
Annual Exam
TN SSLC Exam Date
06 April to 20 April 2023
TN 10th Result 2023 Date
19 May 2023 (OUT)
Result Time
10:00 AM
Article Category
Board Results
Official Website

www.tnresults.nic.in

dge1.tn.nic.in

www.dge.tn.gov.in
The Outstanding Performers and Pass Percentage
Students across the state showcased their academic prowess with outstanding performances. Although individual names of the top performers are usually not disclosed by the DGE, Tamil Nadu, the overall pass percentage was a significant indicator of their collective success.
Key points to note:
The pass percentage for SSLC and HSC-1 examinations was remarkably high, demonstrating the caliber and dedicated efforts of the students.
The districts with the highest pass percentage were acknowledged, adding to their educational reputation.
The pass percentage of the Tamil Nadu state board has been consistently improving over the years, showing continuous academic progress.
TN Board Top District Pass Percentage 2023
| District | Percentage |
| --- | --- |
| Perambalur | 97.67% |
| Sivaganga | 97.53% |
| Virudhunagar | 96.22% |
| Kanyakumari | 95.99% |
| Tuticorin | 95.58% |
How to Check TN 10th Result Public Exam Result 2023
Here are the steps to check TN 10th Result:
Visit the official website tnresults.nic.in.
Navigate to the home page of the Government of TN, Directorate of Govt. Examinations.
Locate and click on the SSLC (10th) Examination Results April 2023 Link.
The Results web page will be displayed on your screen.
Enter your Registration Number and Date of Birth.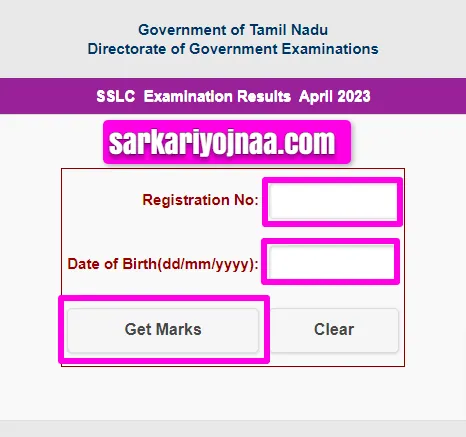 Click on the Get Marks button. Your Tamil Nadu 10th Public Exam Results 2023 will be shown on the screen.
Download the results and keep a printout for future reference.
TN Board Grading System for 11th Class 
Students can check their Grades according to their scored marks below:
| Grade | Marks Range |
| --- | --- |
| A1 | 91-100 |
| A2 | 81-90 |
| B1 | 71-80 |
| B2 | 61-70 |
| C1 | 51-60 |
| C2 | 41-50 |
| D | 33-40 |
| E1 | 21-32 |
| E2 | 20 & below |
Important Links
Conclusion:  Indeed, many students' academic journeys reached a turning point with the 2023 results of the Tamil Nadu SSLC and HSC-1. The greater pass rate and exceptional work reflect the students' tenacity and commitment. We wish all upcoming test takers the best of luck as we wait for the results of the upcoming academic year.

FAQ TN 10th Result 2023 at 2 PM: Check Direct Links to Download
Where can students access the Tamil Nadu SSLC and HSC-1 results?
To access their results, students can visit the official website of the Tamil Nadu Directorate of Government Examinations (DGE) at tnresults.nic.in. This platform allows students to conveniently check their examination results.
When were the 2023 Tamil Nadu SSLC and HSC-1 results declared?
The results for SSLC and HSC-1 examinations in 2023 have recently been declared. To obtain the precise dates, kindly visit the official website.