CGL results for 2023 The SSC CGL Tier 1 Exam occurred from July 14 to July 27, 2023. Now, the candidates who participated are eager to know if they passed. On September 19, 2023, the SSC revealed the SSC CGL Result 2023 for the Tier 1 exam. It contains the names and roll numbers of the individuals who appeared in the Tier 1 Exam to join various Group B positions. If you're one of those eagerly waiting for the SSC CGL Tier 1 Result 2023, you can check the list of selected candidates and the final cut-off marks on the official website www.ssc.nic.in.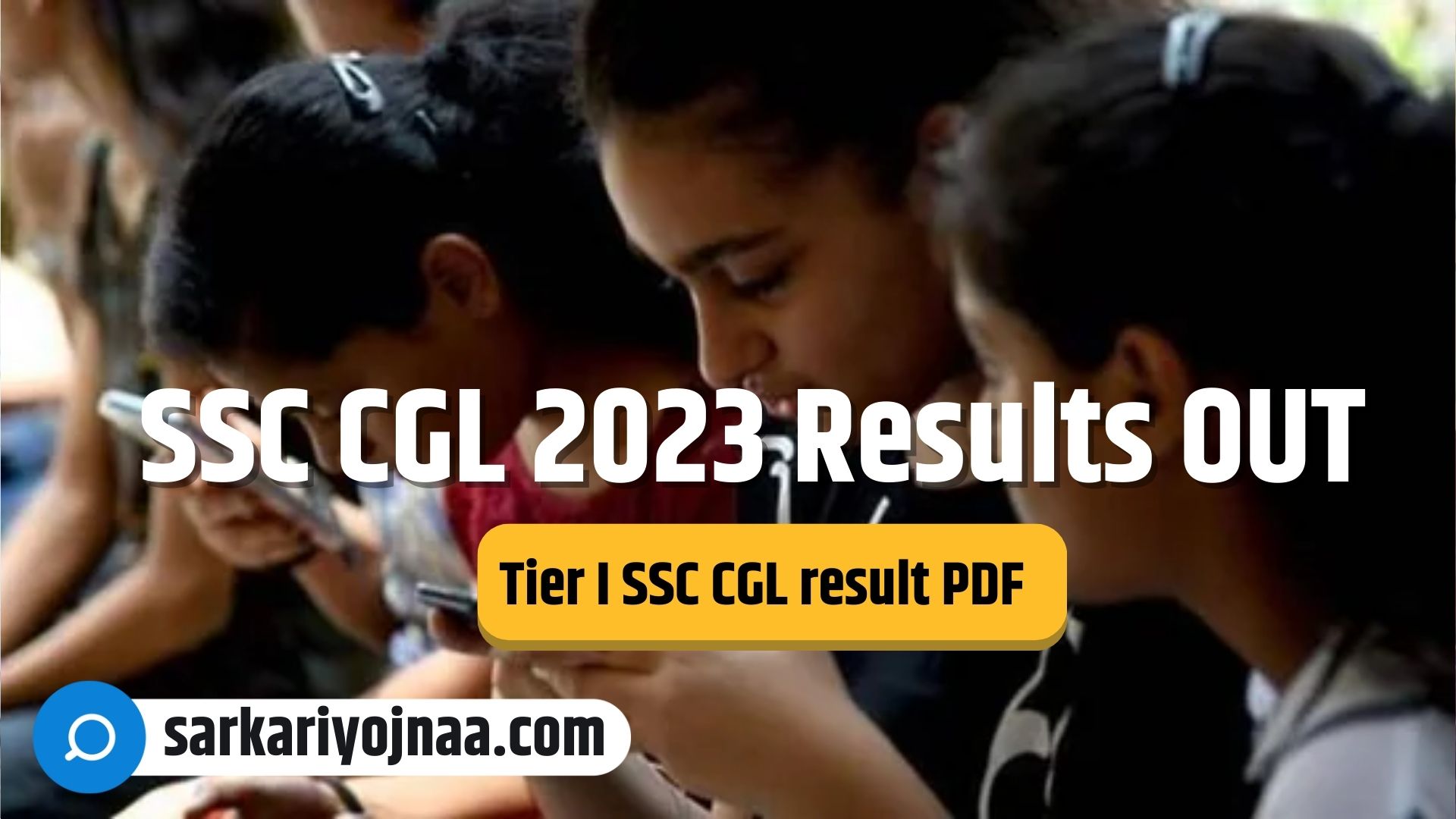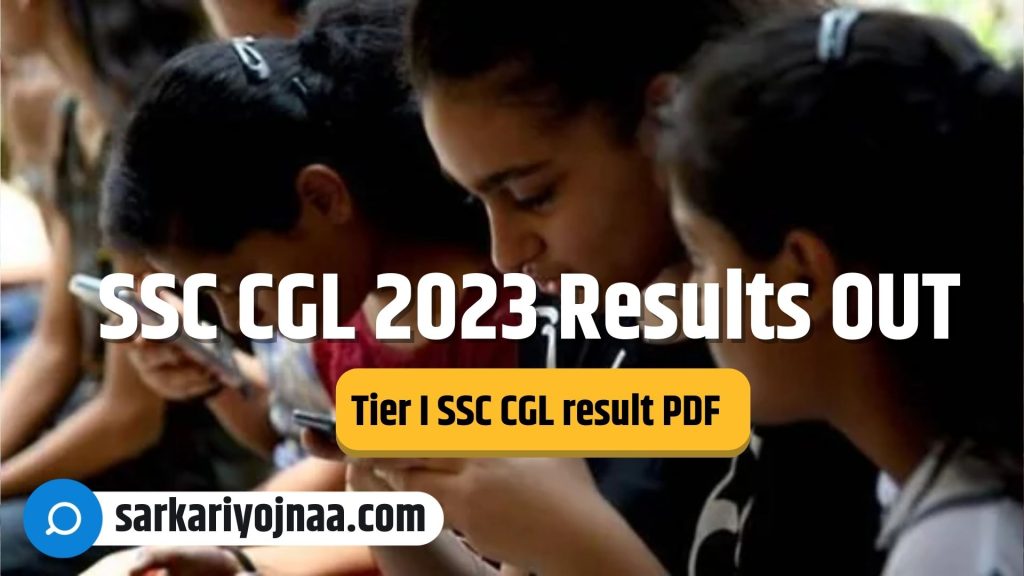 SSC CGL 2023 Results
The SSC CGL exam, which opens doors to many government jobs, happened in July 2023. It went on from July 14th to July 27th, and many Candidates tried their best. They put out an answer sheet in August, and folks could speak up about it till August 4th, 2023. This exam isn't just a test; it's like a dream for many who want one of those 7500 jobs.
The SSC CGL Tier 1 Result 2023 is expected to come out in a PDF format. This PDF will have the names and roll numbers of the candidates who did well enough to move on to the Tier 2 Exam. How well you need to do in the Tier 2 Exam depends on your performance in Tier 1 and Tier 2. They look at everyone's scores and shortlist candidates, ensuring it's fair for different categories.
If you're one of the Candidates who took the SSC CGL Tier 1 Exam and are eagerly waiting for the result, here's the scoop: The Staff Selection Commission will post the SSC CGL Result on their website, www.ssc.nic.in. This year, a massive bunch of folks applied – 24,74,030. Out of these, 12,36,202 candidates, almost half, showed up for the Tier 1 exam, and the other half, 12,37,828, couldn't make it.
SSC CGL 2023 Highlights
| Parameter | Details |
| --- | --- |
| Authority | Staff Selection Commission |
| Examination Dates | July 14 to July 27, 2023 |
| Official Website | ssc.nic.in |
| Total Vacancies | 7500 Posts |
| Tier II Examination Dates | October 25, 26, and 27, 2023 |
| Provisional Answer Key Release | August 2023 |
| Last Date for Objections | August 4, 2023 |
| Result Expected Date | Released For Graduate Level Examination (Tier-I), 2023. |
| Direct Result Check Link | Click Here To Check Result |
SSC CGL Result 2023 Date
The Staff Selection Commission is gearing up to reveal the SSC CGL Tier 1 Result for 2023 in September 2023. This result holds significance for a whopping 1,236,202 candidates who took part in the examination. The purpose of SSC CGL 2023 is to find the right folks for different job positions. These positions include Assistant Audit Officer (AAO) in List 1, Junior Statistical Officer (JSO), and Statistical Investigator-Grade II in List 2. Furthermore, they will also consider candidates for positions other than AAO, JSO, and Statistical Investigator-Gr. II listed under List 3, along with other posts mentioned in List 4. To make these selections, the Staff Selection Commission will conduct a Two-Tier recruitment process. You can find all the essential dates for SSC CGL 2023 Tier 1 result in the table below.
Important Dates to Remember for SSC CGL 2023
| Event | Date |
| --- | --- |
| Tier 1 Examination | July 14-27, 2023 |
| Tier 1 Result Announcement | September 2023 |
| Tier 2 Examination | October 25-27, 2023 |
| Tier 2 Result Announcement | December 2023 |
| Tier 3 Descriptive Paper | January 2024 |
How to Check SSC CGL Result 2023?
Step 1: Go to the official website at ssc.nic.in.
Step 2: On the homepage, And Here You Can see Latest Notification,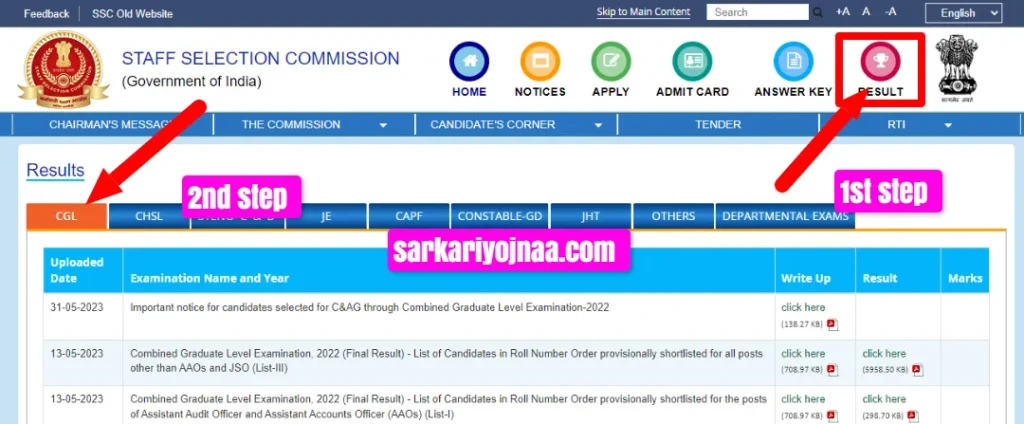 Step 3: Click on the link, " SSC CGL Result 2023 "
Step 4: A PDF of the result, containing the names of the candidates qualified for SSC CGL Result 2023, will be displayed on the screen.
Step 5: Download the result and print it out for future reference.
Details Mentioned on SSC CGL Tier 1 Result 2023
The SSC CGL Tier 1 Result 2023 will be published individually for each post.
The results will be available in PDF format at www.ssc.nic.in.
The result will include the names and roll numbers of the shortlisted candidates.
Information provided on the result will include:

Name of the Examination
Name of the Post
Roll Numbers of the Qualified candidates
Names of the Qualified candidates
Category & Sub Category of the candidates
Post Code
SSC CGL Result 2023 Statistics
The table below shows the count of candidates who registered and took the exam. After the results are out, we'll also reveal the number of candidates who passed the SSC CGL Tier 1 exam.
| Parameters | No. of Candidates |
| --- | --- |
| Total Candidates Applied | 2,474,030 |
| Candidates Appeared | 1,236,202 (49.97%) |
| Candidates Absent | 1,237,828 (50.03%) |
| Candidates Qualified | To be notified |
What's After SSC CGL Tier 1 Results?
Once the SSC CGL Tier 1 results are out, qualifying candidates will gear up for the Tier II examinations, scheduled for late October 2023. This next phase is crucial, as it brings candidates a step closer to their dream government job. But before that, let's understand the significance of the Tier 1 results and what they entail.
SSC CGL Tier 1 Results Importance
The SSC CGL Tier 1 results are a culmination of candidates' hard work, preparation, and performance. These results determine who moves forward in the recruitment process. But what do these results comprise? They reflect the candidates' scores, the cut-off marks, and the merit list. The cut-off marks, especially, are pivotal as they set the benchmark for qualification. Additionally, the merit list highlights the top-performing candidates, setting the stage for the next round.
Expected Cut-Off Marks for SSC CGL Tier 1 2023
The SSC CGL Result 2023 Tier 1 Cut-Off holds great importance. It sets the minimum marks needed for various job positions. This cut-off depends on factors such as the test's difficulty level and job openings available. The cut-off is a vital reference point, allowing candidates to gauge their performance and odds of getting selected in the fiercely competitive SSC Combined Graduate Level exam.
| Category | Expected Cut-Off Marks |
| --- | --- |
| General | 137-142 |
| OBC | 125-130 |
| SC | 115-120 |
| ST | 104-109 |
| EWS | 130-135 |
| OH | 95-100 |
| HH | 40-45 |
| VH | 90-95 |
| Others-PWD | 40-45 |
Quick Tips for SSC CGL Tier 2 Preparation
Understand the Syllabus: Dive deep into the Tier 2 syllabus. It's different from Tier 1, so ensure you're well-versed with the topics.
Practice Mock Tests: Regularly take mock tests to gauge your preparation level.
Time Management: With more subjects to tackle, managing your time efficiently is crucial.
Stay Updated: Watch the official SSC website for updates or changes.
Healthy Routine: A balanced diet and proper sleep can boost your preparation.
SSC CGL in Government Recruitment
The SSC CGL examination is one of India's most sought-after recruitment processes. Every year, lakhs of candidates appear for the exam, aiming to secure a prestigious position in the government sector. The SSC CGL 2023 has garnered significant attention due to the increased vacancies and the streamlined examination process.
SSC CGL Marks & Score Card 2023
The SSC will publish the scores achieved by candidates in the SSC CGL Tier 1 Exam on the official website, along with the ultimate answer key, in September 2023. To view their scores, candidates can utilize their Registration Number or Roll Number and the Registered Password. Once SSC releases it, we'll provide the link to check CGL Tier 1 scores here.
How SSC CGL 2023 Differs from Previous Years
The SSC CGL 2023 examination has seen some notable changes compared to its predecessors. With the introduction of new guidelines, a revised syllabus, and an increased number of vacancies, this year's examination has been a topic of discussion among aspirants. The emphasis on digital transparency and the swift release of provisional answer keys have also been commendable steps towards ensuring a fair examination process.
The Role of SSC in Careers
The Staff Selection Commission (SSC) has a crucial role in India, influencing the futures of many people. With the CGL test, individuals have an opportunity to work in different government departments and ministries. These roles aren't just jobs; they are chances to have a meaningful role in the country's administration. From income tax inspectors to audit officers, the positions available through SSC CGL vary and hold high esteem.
SSC CGL System
The SSC CGL examination is structured in a tiered format, ensuring a comprehensive assessment of candidates:
Tier 1: This is a computer-based test focusing on general intelligence, reasoning, general awareness, and quantitative aptitude.
Tier 2: This stage tests candidates on quantitative abilities, English language, and comprehension.
Tier 3: A descriptive paper where candidates showcase their writing skills in English or Hindi.
Tier 4: This is a computer proficiency test or skill test, specific to certain posts.
Conclusion:
The SSC CGL 2023 results are eagerly awaited by thousands of candidates across the country. As the results date approaches, it's essential for candidates to stay updated and prepare for the subsequent tiers. The journey of SSC CGL is not just about clearing an exam but about dedication, perseverance, and the dream of serving the nation in a prestigious role.

FAQ Related SSC CGL Tier 1 2023 result
When is the SSC CGL Tier 1 2023 result expected?
The results are expected to be announced in September 2023.
How many vacancies are there in SSC CGL 2023?
There are 7500 posts available for recruitment through SSC CGL 2023.
What is the next step after the Tier 1 results?
Qualifying candidates will proceed to the Tier 2 examinations scheduled for late October 2023.
Where can I check my SSC CGL 2023 results?
Results can be checked on the official SSC website: ssc.nic.in.
Are there any changes in the SSC CGL 2023 examination process?
Yes, there have been some changes, including a revised syllabus and the introduction of new guidelines.