The Indian Air Force (IAF) has recently released the AFCAT 2 Admit Card 2023. This card is essential for the AFCAT-2 Exam, which will occur over three days with two shifts daily. The exam aims to fill 276 vacancies in the flying branch and ground duties of the IAF. These positions include both technical and non-technical roles. The AFCAT Admit Card 2023 for the upcoming AFCAT 2 exam was officially introduced on August 10, 2023. To download the AFCAT 2 Admit Card 2023, check the link below.
AFCAT2 Admit Card 2023
The written examination for the AFCAT 2 2023 test will take place from August 25th to 27th, 2023. This is for the course that starts in July 2023. The AFCAT 2 Admit Card for the year 2023 has been made available on August 10th, 2023. Candidates can acquire their AFCAT admit card for 2023 from the official website, AFCAT 2 Exam 2023 www.afcat.cdac.in, or through the direct link in the article below. To do so, they will need to use their AFCAT login credentials. You can find the process to download the AFCAT Admit Card, details about exam centres, exam timings, and additional information in the following section.
AFCAT2 Admit Card 2023 HIghlights
| | |
| --- | --- |
| 🏢 Organisation | Indian Air Force |
| 📝 Exam Name | AFCAT-2 Exam 2023 |
| 👥 Vacancies | 276 |
| 📁 Category | Admit Card |
| 📅 AFCAT2 Admit Card 2023 | 10th August 2023 |
| 🗓️ AFCAT2 Exam Date 2023 | 25th to 27th August 2023 |
| ⏰ Exam Shifts | Mentioned on admit card |
| 📊 AFCAT 2 Result 2023 | September 2023 |
| 📋 Selection Process | Written test- AFSB Test- Medical Examination |
| 🌐 Official Website | www.afcat.cdac.in |
| | |
| --- | --- |
| 📅 Frequency | Twice a year |
| 👥 Roles | Flying, Technical, Non-Technical |
| 🎯 Purpose | Selection for IAF |
The Significance of the Admit Card
The admit card is your entry ticket. It's not just a document but a validation of your exam eligibility.
Applicants can now acquire the AFCAT admission card 2023 for the AFCAT 2 examination, scheduled for August 25th and 27th, 2023. The official link enables the downloading process. Starting from August 10th, 2023, the AFCAT 02/2023 download option is accessible. The official link for obtaining the AFCAT2 Admit Card 2023 is provided below, as released by the Indian Air Force (IAF).
Key Details on the Admit Card
| | |
| --- | --- |
| 📄 Detail | 🎯 Purpose |
| 👥Personal Information | For identification |
| 📝Exam Details | To guide your exam day |
| 📋Venue Information | To direct you to the test location |
| 🎯 Instructions | Guidelines for the exam |
Comprehensive Guide to Downloading Your Admit Card
The 2023 IAF AFCAT Admit Card can be downloaded using the login credentials generated during registration. To acquire the AFCAT 2 Hall Ticket, please follow the steps below.
Step 1: Open your web browser and visit the official website at www.afcat.cdac.in. Alternatively, you can download it directly using the provided link.
Step 2: Click "Click Here" on the homepage that reads "Admit Card for AFCAT 02/2023 is available for download through Candidate Login from 10th August 2023."
Step 3: Enter login credentials- email ID and password in the login window correctly.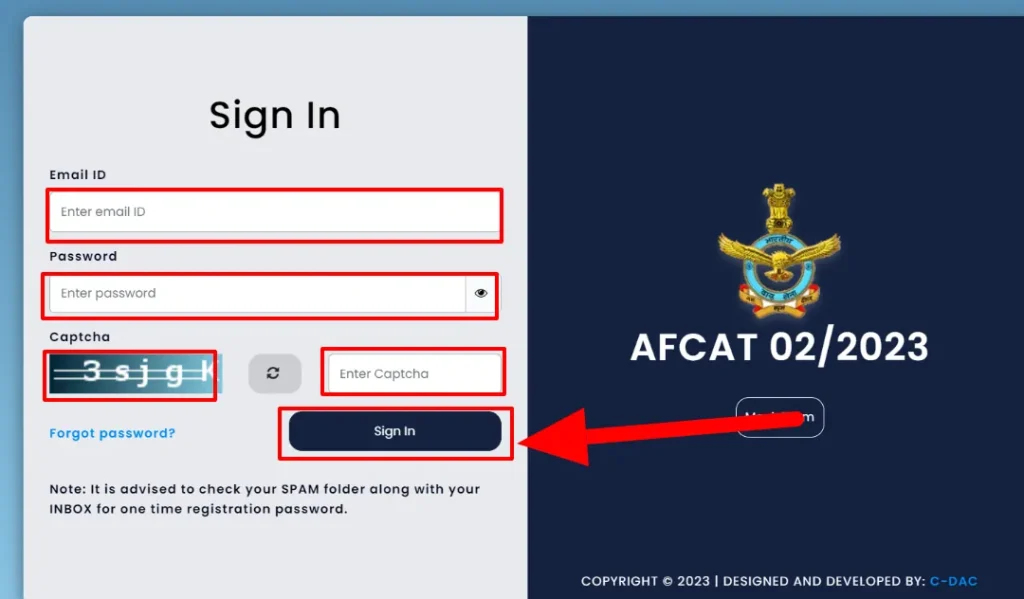 Step 4: You will be redirected to a new page; click the "AFCAT 2 2023 Admit Card" link.
Step 5: Your AFCAT 2 2023 admit Card/ Hall Ticket will appear on your screen, check all details and download the AFCAT admit card 2023 for future reference.
Details on Your Admit Card
Your AFCAT 2 2023 admit card is a treasure trove of information:
Personal Details: This includes your name, father's name, date of birth, and a photograph for identification.
Examination Specifics: Your roll number, the time of examination, reporting time, and date of examination are crucial. Ensure you reach the venue well in advance.
Venue Information: The examination centre address will guide you to your test location.
Instructions: These are guidelines you must adhere to during the examination. Read them carefully.
Dealing with Errors: What If Something Goes Wrong?
Mistakes, though rare, can occur. If you spot discrepancies, it's essential to act immediately.
| | |
| --- | --- |
| 🤔 Issue | Scour your email's spam or buzz the AFCAT squad. |
| Glitches in Downloading | Peek at your net speed and give it another go |
| Details playing hide and seek? | Ring up the AFCAT Help Desk |
| Admit Card's gone, MIA? | Scour your email's spam or buzz the AFCAT squad |
Getting Ready for Exam Day: Tips and Strategies
Must-haves for the Exam
| | |
| --- | --- |
| 📜 Item | 🎯 Purpose |
| 🆔 Aadhaar Card | Essential ID proof |
| 📸 Photographs | For confirming identity |
| 🖊️ Pen | For jotting down and filling up stuff |
Leave Behind
The IAF maintains strict examination integrity. Ensure you don't carry prohibited items:
Electronic gadgets
Study materials
Bags or purses
Facing Issues? Here's Help
If you encounter any issues with your admit card, the AFCAT Query Cell is at your service.
| | |
| --- | --- |
| 📞 Contact Mode | 📝 Details |
| 📧 Email | afcatcell@cdac.in |
| 📱 Phone | 020-25503105 or 020-25503106 |
Last-Minute Tips for Aspirants
Stay Calm: Your preparation will guide you.
Manage Time: Allocate time to each section.
Read Carefully: Ensure you understand each question.
Stay Alert: Hydrate and eat light.
In Conclusion
The AFCAT 2 Exam 2023 is a big step for you to become a part of the IAF. You're almost at your goal now that you have the admission card. Study well, believe in yourself, and dream big. The sky is just the beginning, not the limit!

FAQ AFCAT2 Admit Card 2023
What is the AFCAT2 Admit Card 2023 release date?
The AFCAT2 Admit Card 2023 is now available for download! Head over to the official website at www.afcat.cdac.in to access it. The link was activated on August 10th, 2023. Get ready for the upcoming AFCAT 2 examination by securing your admit card today!
Where can I download the AFCATadmit card?
The AFCATadmit card can be easily accessed online through the official IAF website.
Required Documents to Bring Along with AFCAtAdmit Card to the Examination Center?
Remember to bring an identification card with your birthdate and signature, your essential Aadhaar card, and a pair of passport-sized photos to the examination venue.