||
What is E-Name Scheme?
E-name portal registration |
How to avail E-Name
Modi government's new scheme for farmers
E-NAM PORTAL | E-NAM SCHEME |
E-NAM Application |
E-NAM Farmer's Market |
Krishi Baazaar ||
As the Modi government had formed before forming its government, keeping in mind that in the coming days, it will double the income of the farmers, the Modi government has established the national agricultural market. This mandi of online is only for the benefit of the farmers and till now many farmers of the country have joined under it and are also doing very well to double their income or increase their income.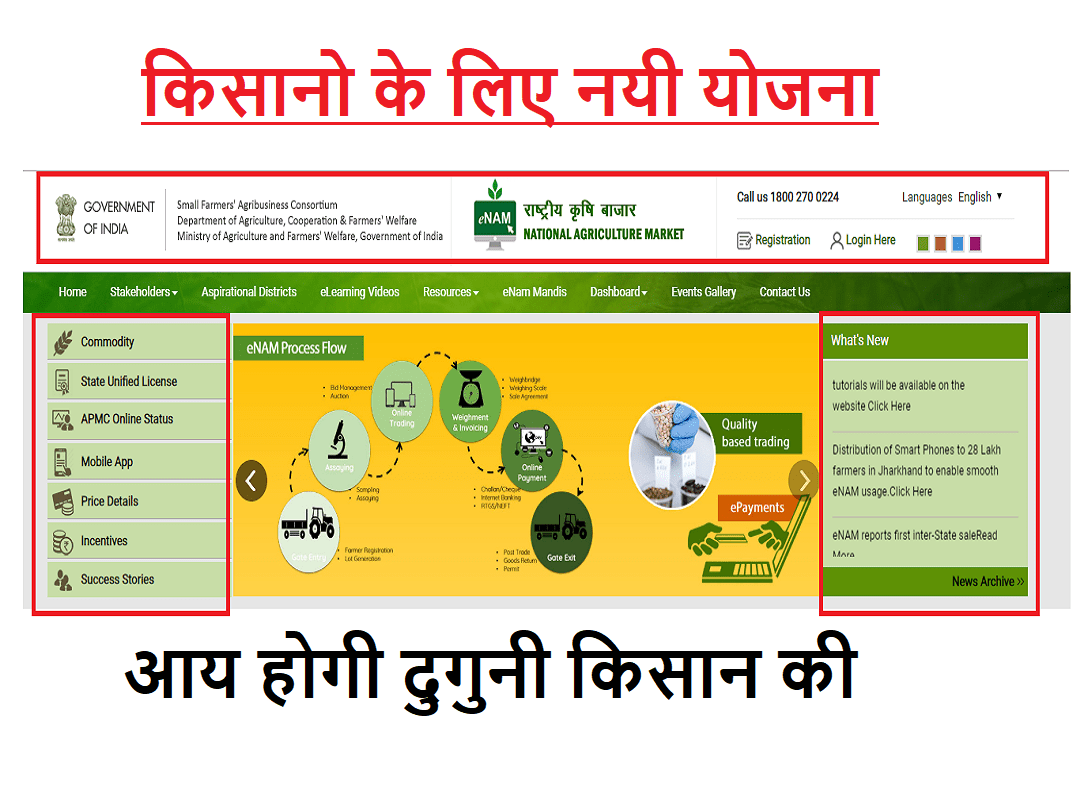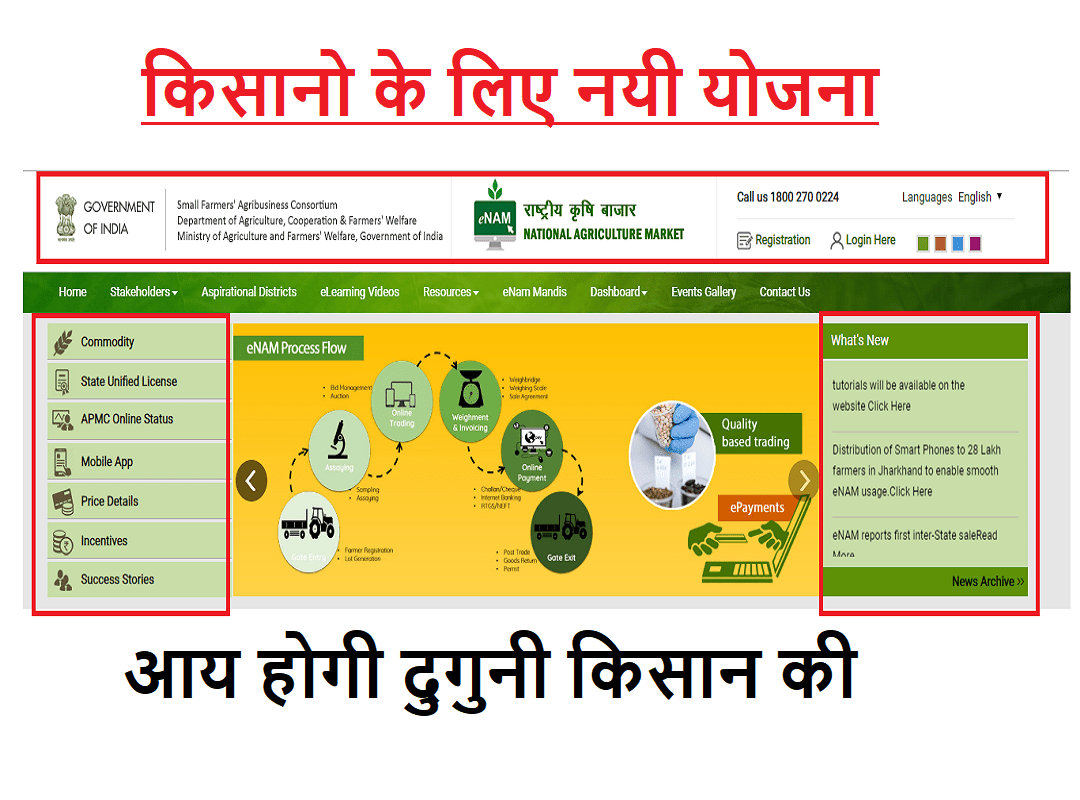 NATIONAL AGRICULTURAL MARKET SCHEME (E-NAM MANDI / E-NAM MANDI) / NATIONAL AGRICULTURE MARKET
To double the income of farmers under the chairmanship of Narendra Modi, the government set up the National Agricultural Market. It is an online market that is doing very well for the farmers. Most of the farmers of the country are now joining this market. And now about twenty-five million farmers have joined this market. In the National Agricultural Market (E-Naam Mandi / E-NAM Mandi) , 2017, only 17000 farmers were associated with this mandi, while in 2018-19 its number has reached 1.75 million. Farmers get a fair amount for selling their crops, which is for farmers across the country.
E-NAM PORTAL / E-NAME PORTAL
E-NAM / E-NAM portal is an electronic portal that provides a market for farmers across the country to sell their grains or crops grown in more than 585 mandis. E-NAM works to connect the Agri Marketing Committee across the country with a network. One of its objectives is to provide a fair market at the national level for agricultural products in which farmers get a fair amount for their crops. Could. In view of this availability of E-NAM portal, farmers are joining this portal very fast. Agricultural products will get higher prices through the National Agriculture Market and it is the agenda of the government that by 2023 the income of farmers will also double, for which the government has also launched schemes at the state level along with the Pradhan Mantri Kisan Samman Nidhi Yojana for farmers and E-NAM portal has also been developed.
BENEFITS OF E-NAM PORTAL / BENEFITS OF E-NAM PORTAL
E-NAM is an electronic portal and covers 585 mandis of the country. With its help, the market for agricultural produce located in different states of the country has been connected through the Internet. That is, if a Bihar farmer wants to sell his crop in Gorakhpur, then it is much easier to carry and market agricultural produce.
WHAT IS THE BENEFIT TO FARMERS?
The E-NAM  portal has the following advantages for a farmer who is using it.
◆ Farmers of different states of the country will get a fair market in which they will get a fair amount for their crops.
◆ With the help of E-NAM portal, there will be no broker between the farmer and the buyer i.e. the farmer can give his crop directly to the buyer.
◆ The interest of the local agricultural produce market in this business will not harm the farmers and traders as the entire trade is being done through this medium.
◆ Farmers will get a fair price for their crops, which will also increase incentives and income for farmers.
WHAT WAS THE BIGGEST PROBLEM OF FARMERS BEFORE?
Before coming to  E-NAM portal, the biggest problem of farmers was that they are working hard on the crop they are growing but when they take the crop to the market, they give it to a middleman. and brokering it was bought crop with less money through intermediaries to farmers sells to the buyer and the farmers could not get fair value in return for their crop but come to this portal it went fine.
WHAT IS E-NAM ?
E-NAM is a national agricultural market that deals in the sale of online crops. For buyers and sellers, farmers can register themselves online and get a fair price on top of their crop. The Agricultural Market Market has been set up across the country to provide farmers with a fair price over their crop and now serves as the National Agricultural Market.
● E-NAM was launched on 14 April 2016 under which a farmer can get fair price over his produce and sell his produce wherever he wants in the country.
● With the arrival of this portal, farmers no longer need to depend on middlemen, they can send their crops directly to 585 mandis added by the government.
● The "Small Farmers Agricultural Merchants Association" (NFC), working under the Union Ministry of Agriculture, is the largest institution implementing E-NAM which plays a key role in the government's scheme.
● The government aims to add 200 more mandis to e-NAM / E-NAM this year as well as 215 new mandis to be included next year.
● Currently there are around 2700 agricultural produce markets and 4000 sub-markets across the country. E-NAM / E-NAM has now made it possible to work between two states.
HOW TO REGISTER FARMERS ON E-NAM 
Farmers can register themselves online on e-NAM, whose process we are telling you below.
◆ First of all, the farmer has to visit its official website, click here to go.
◆ After visiting the website, you will see a registered option under which you will have to select the farmers.
◆ As soon as you select the farmer, a small registration form opens in front of you, in which you have to enter your personal information along with the mobile number and email ID.
◆ On the given mobile number and email ID you get the login ID and password of the reward portal, due to which you can login and use the Rashtriya Krishi Mandi.
YOU CAN WATCH THE VIDEO OF HOW TO REGISTER ON E-NAM .
https://youtu.be/SN82UrNaYXs
Note: – If you want to ask anything in this regard, then you can ask through comments. To keep getting such information, you can follow our website Sarkariyojnaa.com.